This is the blogging award that I won from a fellow reader: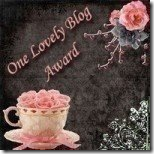 Thanks a lot, MisadventuresofMomof3, I am very appreciative!
Here are my favorite blogs to read:
1.
BrooklynTrolleyBlogger
2.
2 kids and a cat, my life as a single mom
3.
In My Own Little Corner
4.
Felissa Hadas
5.
Monica Loud and Proud
6.
Santiago Twin Girls
7.
The Snyder 5
8.
One 2 Try
9.
Adventures in Tot School
10.
Milk and Cuddles
Check out these blogger memos, they're really good!
To be quite honest, what makes a blogger better is checking out the other blogger sites. There are so many good bloggers out there, they really tell their stories in a timely fashion and they really have a lot of talent. Some blog writers write their own blogs for their profession such as journalists.